History of Brignell Bookbinders
Within the bindery there is a combined expertise in excess of 150 years. We welcome modern design concepts and new innovations combining with our own traditional techniques to create a unique product which will last you a lifetime. All materials are acid free and reversible wherever possible.
Barry Brignell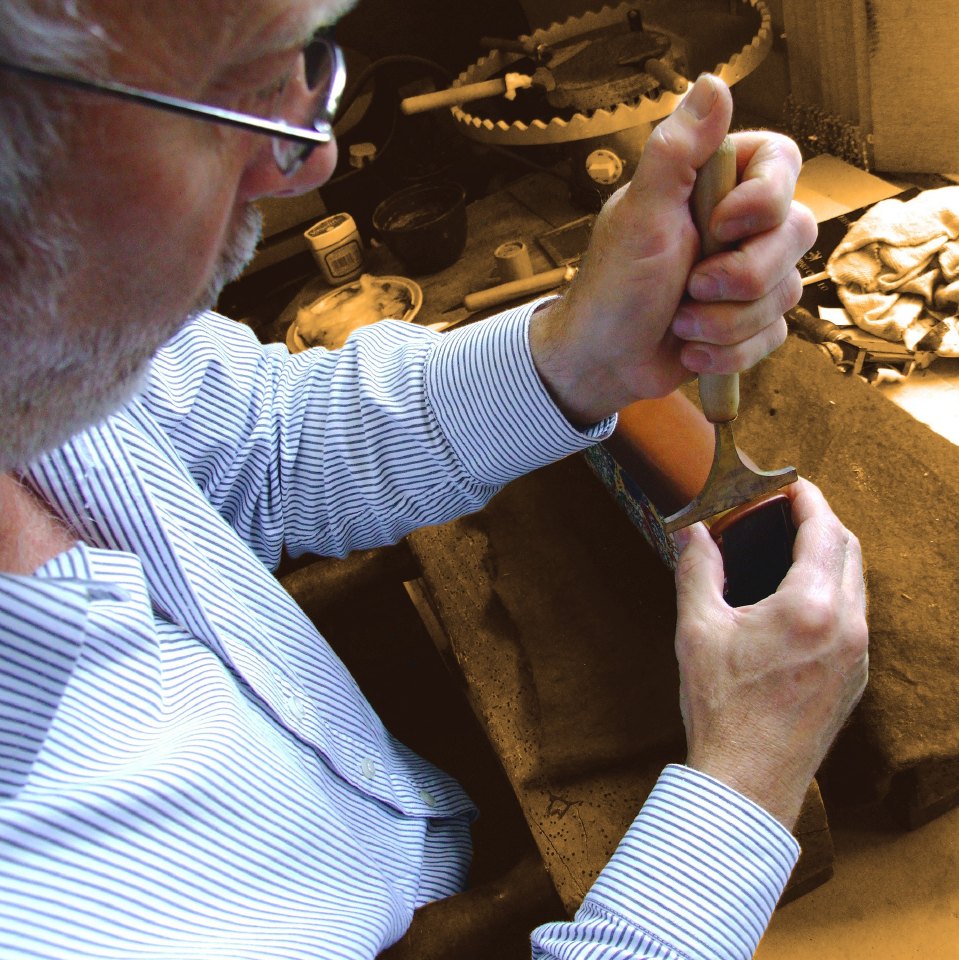 In 1982 at the age of 26 I found myself facing unemployment. Since leaving school, I had been working with a small group of master craftsmen at a long established bookbinding company in Cambridge, but in 1982 the owners came to the view that the fine art of bookbinding was no longer a viable business. This was not a view I shared. With the help of my wife Sue and a local publishing company Woodhead-Faulkner we set up Brignell Bookbinders in Cobble Yard. Though we started on a small scale, it has always been clear that there is much demand and huge interest in what goes on in the workshop. After almost 40 years we have the good fortune to look back at all the great people who have been involved in the business and some of the fantastic projects we have been part of. Whilst many people have come and gone, we were fortunate to be joined in the mid 80s by Paul Gill who learnt his skills under the watchful eye of the same small group of master craftsmen who taught me in the 70s. Paul continues to play a major part in the workshop along with the core of four or five other important staff members without whom Brignell Bookbinders would simply not be the same.
The art of conservation and restoration is still very much in demand, and I consider myself fortunate to be able to spend my days in the workshop surrounded by my work and the people that help make it such a rewarding working environment.
Since the business started, we have been involved in a diverse range of projects and never know what will come through the door. Sometimes it's the one-off individual client wishing to see their cherished family treasure restored to its original state; or it could be the creative artist who knows that he/she wants something really special and unique and can't quite believe that we are willing to produce such an article; and we have the tremendous privilege of being involved in the ongoing conservation and restoration of some of the finest libraries from the University of Cambridge to the Royal Societies in London.
One of our recent projects involved the production of 200 fine bound leather volumes celebrating the history of the Bentley 8 Litre. We worked on a similar project for the St John's Ambulance as part of their 'Over to you John' fund raising event; we produced volumes to celebrate the 150 year history of The Prudential and have worked on a number of special projects with Kip Gresham at The Print Studio in Cambridge; we also worked with Churchill Archives when Margaret Thatcher donated her papers to the library.